LEARN, ACT, REACT!- Youth Exchange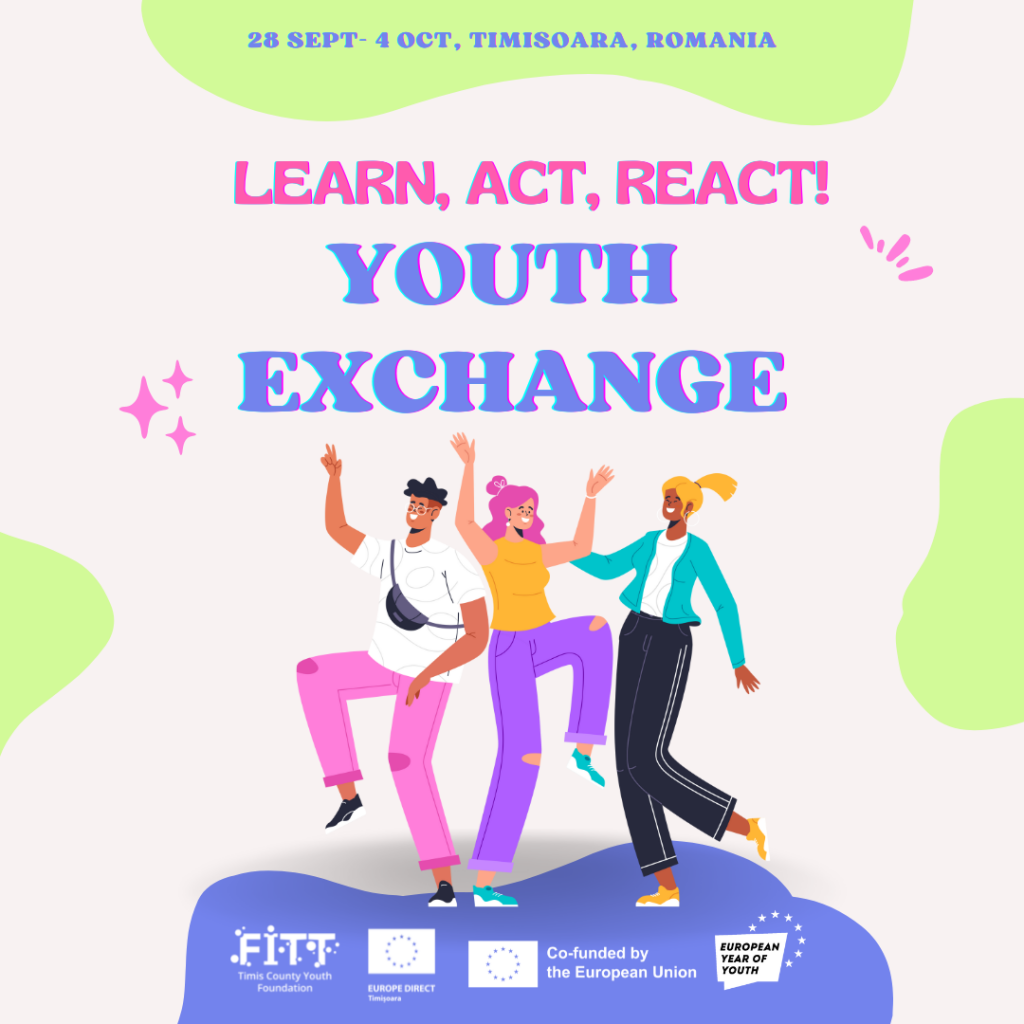 Between September 28 and October 4, join us in Timisoara for a 5 days experience, bringing together 38 young people from Europe and not only!
𝐋𝐄𝐀𝐑𝐍, 𝐀𝐂𝐓, 𝐑𝐄𝐀𝐂𝐓! is a youth exchange which will 𝐞𝐦𝐩𝐨𝐰𝐞𝐫 𝐲𝐨𝐮𝐧𝐠 𝐩𝐞𝐨𝐩𝐥𝐞 𝐭𝐨 𝐭𝐚𝐤𝐞 𝐚𝐜𝐭𝐢𝐨𝐧, know their rights and 𝐡𝐨𝐰 𝐜𝐚𝐧 𝐭𝐡𝐞𝐲 𝐛𝐞𝐭𝐭𝐞𝐫 𝐜𝐡𝐚𝐧𝐠𝐞 𝐭𝐡𝐞𝐢𝐫 𝐜𝐨𝐦𝐦𝐮𝐧𝐢𝐭𝐲.
Some of the topics explored will be focusing on:
democracy human rights advocacy community building youth participation
---
We are looking for participants who are:
Between 16 and 30 years old;

Willing to find out more about democracy and youth participation;

Speaking English at a conversational level;

Very important: each group of participants must have a leader who has experience in international mobilities and who is involved in environmental activities. The group leader should be at least 18 years old.
---
Accommodation, for the Youth Exchange will be provided in the 3 stars hotel within the youth house, the same building where the sessions take place. Facilities at the accommodation:
Double shared rooms;

Own bathroom;

Free wi-fi.
Food will also be provided: 3 meals/day. Also, during the youth exchange we will organise a dinner out, and you will have the chance to try some traditional food during your stay in Romania.
The travel expenses will be reimbursed according to the Erasmus+ distance band. All the information regarding this can be found in the info pack.
Does it sound good? Take all the info you need from the INFO PACK and APPLY HERE !