GO GREEN OR GO HOME!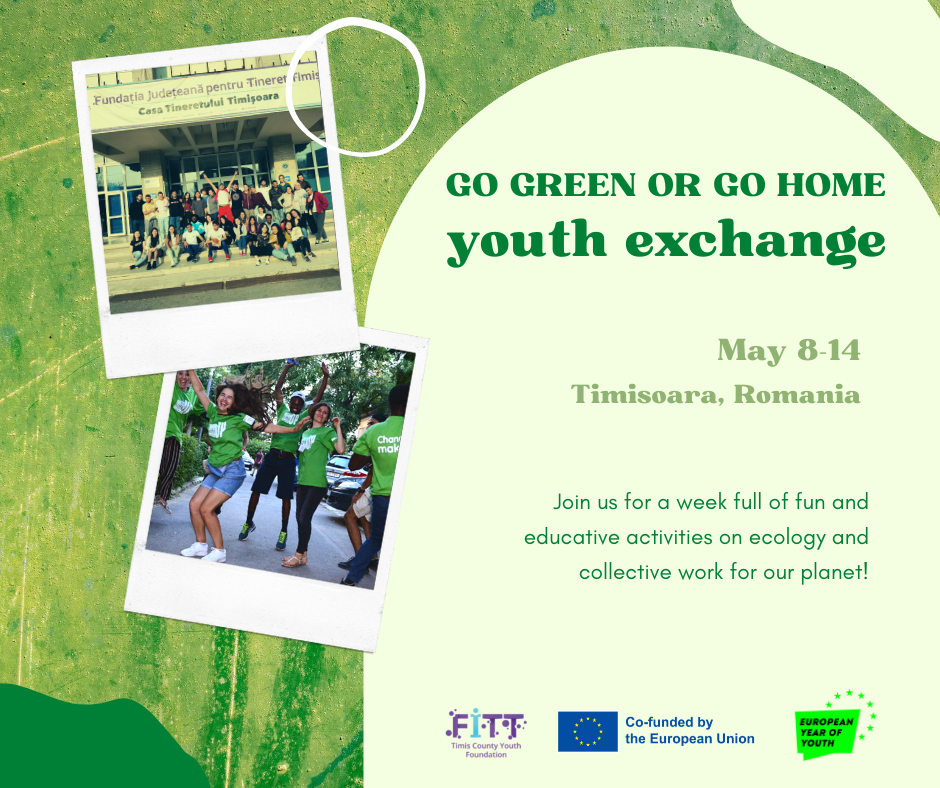 Between May 8 and 14, Timiș County Youth Foundation, FITT hosts a Youth Exchange on the green area, focusing on informing young people about the impact they have on the environment.
The Youth Exchange will gather 38 international participants who will have 5 days of a learning experience.
Within the youth exchange, with FITT's staff support, participants will:
focus on different aspects of environmental conservation, linked to daily human activities (such as recycling, reuse) using non-formal learning methods (role-play, brainstorming, art workshops, learning-by-doing);
learn how to self-produce or reuse daily tools and objects in a creative way;
get to know local NGOs and institutions, and discover their good practices and knowledge.
We are looking for participants who are:
Between 14 and 30 years old;

Willing to find out more about the greening activities;

Speaking English at a conversational level.

Very important: each group of participants must have a leader who has experience in international mobilities and who is involved in environmental activities. The group leader should be at least 18 years old.
The draft of the agenda for the Youth Exchange:
Accommodation will be provided in the 3 stars hotel within the youth house, the same building where the sessions take place. Facilities at the accommodation:
Double shared rooms;

Own bathroom;

Free wi-fi.
Food will also be provided: 3 meals/day. Also, we will organise dinners out, and you will have the chance to try some traditional food.
The travel expenses will be reimbursed according to the Erasmus+ distance band. All the information regarding this can be found in the info pack.
For more details, check the Infopack available here and apply now!