Training 4 The European Network of Regional and Local Youth Platform (ENRYP)
FITT seeks 10 participants from Timisoara to join the European network of regional and local youth platform – ENRYP (European network of regional and local youth platforms) and participate in the training to be held between 7-13 September for shaping it.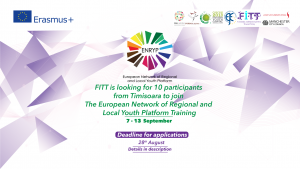 "European Network of Regional and Local Youth Platform – ENRYP" is a project that started from the need to increase the efficiency of direct and open communication on issues aimed at young people and to exchange best practices between Platfomele Youth (forums, councils, parliaments or other similar structures of young people) operating at regional or local level in different countries of the European Union. Between 7 and 13 September, 35 participants, aged 18-30 years, from Italy, Great Britain, Portugal, Hungary and Romania will meet in Timisoara in a training that will be focused on defining the concept of the ENRYP network and on Developing skills and skills for youth workers who are part of the network so that the network becomes a relevant, impact-active one. The course will reach the following main topics:-Youth participation and active citizenship-social inclusion and how it becomes a network value-steps in building youth networks, coalitions, structures-setting goals and Objectives, principles, values, style of work, identification of the actors involved and the appropriate way of engaging them-models of best practices for the participation of young people in each country-stages in drawing up the action plan and Project ideas based on the needs of young people, related to the purpose of the network ENRYP more details about the design you can consult here. To benefit from this learning opportunity, please fill out the form from here until August 28. The costs of coffee and lunch breaks and material costs are covered. No participation fee is charged. The course will be held in English. Mobility is an activity of the ENRYP project under a Strategic partnership project financed by the Erasmus + programme.